Introducing done4Ulaundry
Get Back to What Matters.
Cross
Laundry
Off Your To-Do List

The service you have come to love and rely on has just gotten even better. Clean & Press 4 Less is now done4Ulaundry. Let us take care of your laundry so you can do what really matters.
Get More from done4Ulaundry
done4Ulaundry will provide the same great service you've come to expect from Clean & Press 4 Less with some added benefits.  

We know that life can get monotonous when it feels like precious time is spent on chores. Your time is better spent on connection with your family, your community, your passions. Welcome those moments back by trusting done4Ulaundry to care for your laundry.
done4Ulaundry was created out of the recognition that traditional laundry services were becoming outdated, largely in part due to the COVID-19 pandemic. This experience created piles of laundry, a need for increased sanitation practices, and a change to our way of life that called for more contactless conveniences.
At done4Ulaundry, we have created a way to eliminate the dreaded trips to the laundromat so that you have more time for work and play. Families and businesses alike have saved countless hours by handing-off their laundry duties to us. In just the last year we've served over 9,000 businesses and families in the North Carolina Research Triangle and Piedmont Triad. Making time for you to do what's really important is just one way we are making a difference in our community.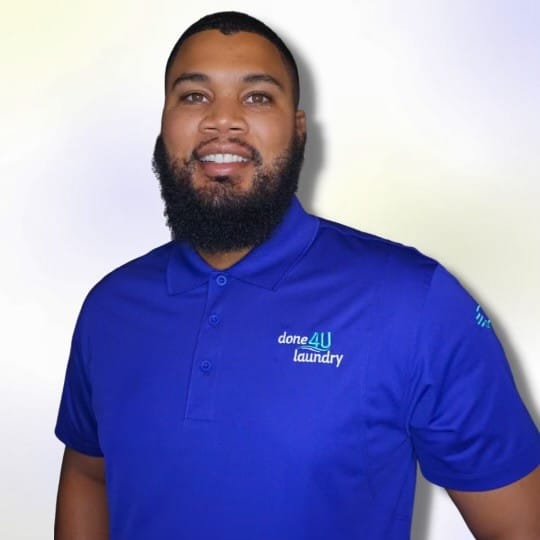 Get Acquainted
Get to know our founder, Doug Hyman
Alumnus of Francis Marion University
2022 Alamance Chamber of Commerce Board Chair-Elect
Member of Habitat for Humanity of Alamance Board of Directors
Member of Alamance Partnership for Children Board of Directors
Member of Alamance Arts Board of Directors
Doug Hyman is a community advocate and entrepreneur driven by the desire to fill peoples' lives with joy. As the owner and managing director of done4Ulaundry (formerly Clean & Press 4Less), Doug is helping to transform and modernize the dry cleaning and laundry industry in the North Carolina Piedmont Triad.
Modern technology enables anyone with a smartphone to check the balance of their bank account, book a vacation to the Virgin Islands, and then celebrate by having dinner delivered right to their front porch – all with only a few taps of the finger. So, why do we still drop off our dry cleaning in a drive-thru? And why are we handed a piece of paper that we need to keep up with so that we can remember to pick our items up in a few days? A trip to the dry cleaner in today's world can feel like a trip back to the 1950s.
Doug Hyman is revolutionizing the dry cleaning and laundry industry with convenience, technology, and enhanced services that meet the expectations of today's consumers.
done4Ulaundry Helps Busy Professionals Find Balance
Doug's ability to listen to customers and analyze the market has allowed him to innovate the dry cleaning and laundry services he provides to local businesses. When the COVID-19 pandemic created a need for businesses to enhance their sanitization practices, Doug responded by offering a convenient pick-up and delivery service to wash and sanitize medical scrubs, uniforms, towels, linens, and other necessities for business owners. This service from done4Ulaundry was crafted with convenience in mind. They now serve businesses from Airbnb hosts to massage therapists, medical offices, and sports organizations.
done4Ulaundry Gives You Time for More Important Things Than Washing Clothes
The COVID-19 pandemic also shifted the needs for families. As "work from home" became the default situation for many professionals, the demand for drop-off dry cleaning services diminished. But as a result, the amount of wash-at-home laundry increased, which meant that people were spending more time on chores and less time doing meaningful activities together as a family. Doug saw the need to serve families in a way that would deliver some much-needed convenience and joy during a troubling time. With grocery delivery and meal delivery services growing in popularity, he knew the market was ready for a residential pick-up and delivery service for wash and fold laundry. done4Ulaundry is now the top-rated dry cleaning and laundry service in the area.
done4Ulaundry Creates Jobs, Relationships, and Valuable Services for Families
Doug was raised by his grandparents, who were farmers and entrepreneurs. They instilled in him a strong work ethic and innovative spirit that led to his own entrepreneurial endeavors. Doug is intentional about hiring and training people who share his passion for community and people. Customers of Clean & Press 4less valued the friendly service and quality that the business became known for.
Now done4Ulaundry is positioned to continue adding to Doug Hyman's legacy as a community builder, a business builder, and a relationship builder. His passion is to provide local businesses and families with fresh, clean laundry and to give them time back in the day to focus on the people and things they truly care about.
Explore Our Convenient Services